As technology continues to evolve and patient care progressively shifts to a more virtual environment, having the right tools for your practice to adjust to these times is becoming increasingly important.
A decade ago, patients would come to your office, check in, and then sit in your waiting area with a clipboard and a stack of papers to be reviewed and signed before beginning their visit.
Today, many behavioral health practices allow – and even prefer – for patients to complete their paperwork before even stepping foot into your office. And with virtual visits becoming the new norm (temporarily, at least), signing their paperwork in person is less of a viable option.
Why do mental health practices benefit from having e-signing capabilities?
Ability to operate remotely
With telehealth visits on the rise, it has become critical for private practices to have a mechanism for completing intake paperwork remotely. Mailing paperwork is expensive, time consuming, and cumbersome to facilitate. Faxing might work for business-to-business communication, but most patients do not have access to a fax machine in their home. eSignature software allows for documents to be signed from anywhere, from any device.
Streamlined intake process
How often do you experience patients that show up to their appointment right on the dot or even a few minutes late? Filling out required paperwork or spending those few extra moments signing consent forms can waste valuable treatment time. It also gives the provider inadequate opportunity to review their patient's questionnaires prior to the session. Not to mention, the administrative time involved in scanning those stacks of paper and saving them electronically to the patient record – or filing them away in a cabinet– can really add up over time.
From the patient perspective, when given the option, most patients would rather complete their intake paperwork prior to their visit, from the comfort of their own home. With personal information more readily available and nobody rushing them, forms and intake information are more likely to be thorough and accurate.
Security and risk reduction
When using the proper eSignature tool, documents are encrypted and your practice can confidently adhere to HIPAA-compliancy regulations. Additionally, by completing all patient paperwork electronically, your practice can easily maintain a complete audit trail, reducing your practice's liability, as well as the time required to gather documents when audited or subpoenaed.
What are your options for completing paperwork or obtaining patient signatures remotely?
Standalone electronic signature software
There are many standalone e-signing options available for practices to evaluate, ranging broadly in price, functionality, and security. Top-of-the-line brands tend to have encryption and provide some level of customization for your forms. They can also be very expensive to utilize and are typically geared towards large corporations who are sending and signing contracts daily. The feedback we've received from private practices is that these standalone solutions are often too expensive or not tailored enough to their specific needs.
EHR-integrated eSignature capabilities
Integrated options help you save time, reduce errors, and maintain record hygiene by automatically attaching the signed documents to the patient record. However, not all integrated options are created equal. Our research has determined that many EHRs that offer an integrated experience have very limited out-of-the-box capabilities, leaving practices frustrated with the inability to customize their paperwork to the needs of their behavioral health practice.
Does Valant's mental health software include the ability to sign documents electronically?
Yes! Valant's EHR provides a secure, seamless eSignature experience. We believe our solution is perfectly suited to address the needs of mental health practices specifically. Fully integrated, HIPAA-compliant, and super flexible, Valant's eSignature functionality reduces the burden on your administrative team and enables you to customize your packets in whatever way best serves your practice.
How does Valant eSignature perform compared to other options?
Ultimate flexibility to customize forms and paperwork
Perhaps you're setting up your electronic intake process for the first time, or you're making changes to your patient intake paperwork. With Valant's robust form-building capabilities, this becomes a breeze.
Decide where to put signatures, date fields, check-boxes, and more. Where other software solutions allow you just a few limited options, Valant gives you full flexibility out-of-the-box.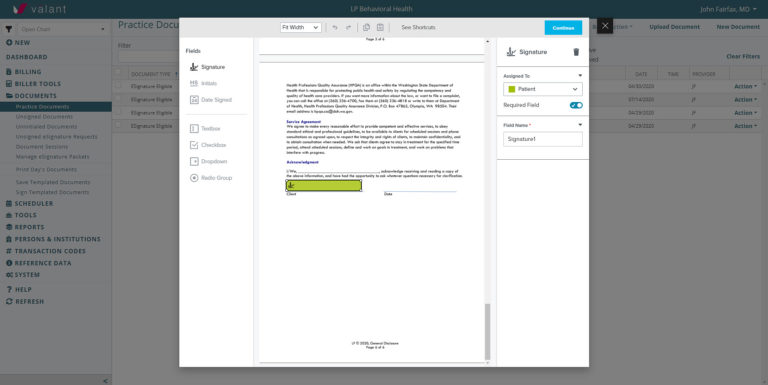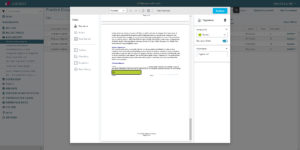 Upload existing PDFs to use as a starting point. Compared to other software that requires you to re-type your document in the form builder, this feature can save considerable time for every form you create.
Want to send different intake packets to different types of clients? No problem. Valant lets you group documents together into custom packets for different practices and client types.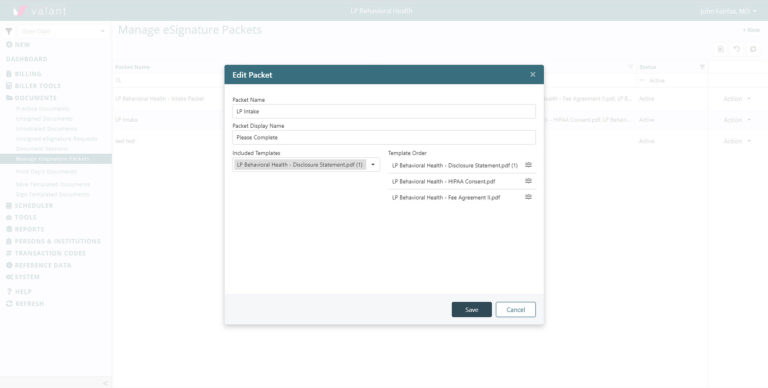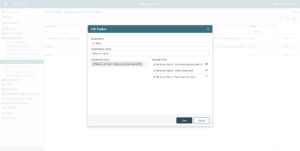 Increased administrative efficiency
Valant eSignature capabilities are fully integrated into the EHR software, reducing the number of steps your team has to take to file completed forms and track down missing paperwork.
Simply find the patient in your EHR, select the paperwork packet you want to send, and with the click of the mouse, the packet is emailed securely to the patient.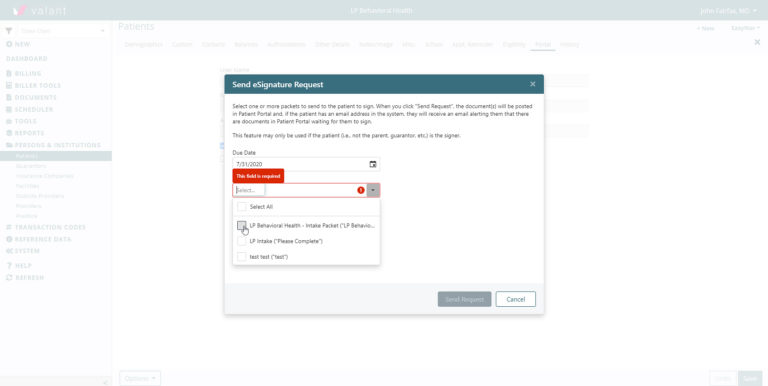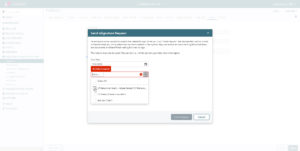 Once paperwork is completed, Valant's EHR automatically files the signed documents in the patient chart, saving you those manual steps and eliminating room for error.
Easily monitor outstanding eSignature requests and trigger automated reminder emails right from the patient record.
Simple for patients
For clients, completing and transferring paperwork can be a nightmare. Or it can be easy. With Valant's integrated eSignature capabilities, your clients will securely receive, complete, and submit their paperwork through the Patient Portal. This not only provides a consistent, positive experience for patients, but also gives patients another reason to log into their portal account, in turn, helping you realize all the other great benefits that come with patient portal adoption.
Your clients will receive an email notification with a link to the paperwork that is to be completed. They can then easily complete the request from any device they choose.
Completed paperwork is automatically sent back to your practice and added to their patient record.
Signed forms are accessible by the patient anytime via the portal, minimizing their dependency on your office staff if they would like to access it later.


See for yourself
Want to see exactly how Valant eSignature works? Watch our short demonstration video to see how to build your forms, create custom intake packets, send packets to your clients, and monitor outstanding requests.