Drumroll, please!
It's the moment many of you have been waiting for and we are pleased to announce Valant now has an integrated telehealth solution available for behavioral health practices.
With COVID-19 thrusting many mental health practices into a telehealth-only or telehealth-first model, many organizations were forced to select a video conferencing platform quickly. With temporarily relaxed HIPAA-compliance rules, many practices chose to adopt a less secure video platform in order to keep their doors open for business while they figured out a more secure permanent solution.
Now, we're hearing from our customers that practices are beginning to evaluate their telehealth needs for the longer term. And rightfully so. Whether telehealth continues to be the predominant form of behavioral health visits in the future or eventually takes a back seat to in-person visits once it is safe to do so, one thing remains certain: Telehealth is here to stay. Of course, in some cases, telehealth is not the preferred way to deliver certain types of mental health care, but for many patients and providers alike, telehealth has opened the world's eyes to new possibilities of convenience and improved efficiency.
When it comes to evaluating video platforms, there are a surprising number of options, features, and pricing models to consider. For behavioral health practices, these considerations rise to the top:
Is the video technology secure and HIPAA compliant?
Is it reliable? Will it enable me to have a high-quality patient visit?
Will I need to introduce new scheduling or documentation workflows?
Will the experience be cumbersome for my patients? Will they experience technical difficulties?
Will I need to learn and maintain another technology platform in addition to what my practice is already using?
What is a reasonable price to pay for a practice my size and the amount of use the telehealth platform will get?
Valant's telehealth platform – being it's solely for behavioral health practices – was designed with these considerations in mind.
HIPAA-Compliant Video Technology
This is non-negotiable, so much so, that we built in advanced authentication on both the client and clinician sides to ensures sessions are compliant and secure.
Superior Telehealth Workflow Integration
The last thing your practice needs is a separate scheduling tool or workflows to manage your telehealth visits. Eventually, if not already, practices will be providing a mix of both telehealth and in-person visits. Maintaining separate calendars for the different types of visits is not practical. Copy and pasting video links from a standalone video conferencing platform into your EHR is clunky at best. Keeping track of what virtual visit link goes into each patient email sounds like a nightmare.
Valant's telehealth solution is completely integrated into the EHR. All of your appointments – regardless of if they're intended to be in-person or virtual – are scheduled and managed the same way, using just one platform. In fact, for every appointment you create, you have the flexibility to initiate the visit via telehealth – even at the last moment – without any additional steps.
Seamless Provider Experience
Valant's telehealth technology was developed with thoughtful touches that allow behavioral health providers to give the best care possible and remain efficient with their documentation. During a virtual visit, providers can simultaneously see the patient's video while accessing their chart to review the patient's history or take notes concurrently if they choose.
Providers also receive a notification when their patient has joined the session, allowing them the opportunity to start the session early or continue working while waiting for a client who may be running a few minutes late.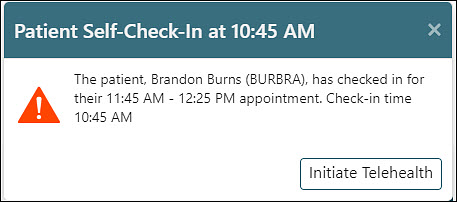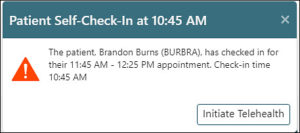 High-Quality Patient Experience
A positive user experience will certainly aid client willingness to continue to receive care virtually. On the flip side, a cumbersome experience could create resistance over time – or worse yet, motivate them to seek care elsewhere.
The concept of receiving care for your clients might be new. However, it's likely they have been interacting with video chats for quite some time (hello, FaceTime!). That means they already have certain expectations about what a video experience should entail. It needs to be easy. Users don't want to download a special software onto their computer or a new app on their mobile device. They don't want to search through their inboxes for a special link and password.
Fortunately, Valant's telehealth platform makes it easy for your patients to join their telehealth session – every time. Links are easy to access from their patient portal. Visits are browser-based so clients can join their session from any device without having to download anything. The video experience is reliable, intuitive, and consistent with other popular consumer video platforms so there is no new learning curve.
Valant Telehealth Pricing
What you're willing to pay when you're desperate for an immediate telehealth solution and what you're willing to pay for a more permanent solution are likely two different things. Let's just say some video conferencing platforms have been profiting nicely from the sense of urgency COVID-19 has created. Telehealth shouldn't cost you an arm and a leg.
At Valant, our top priority is helping behavioral health practices provide the absolute best patient care possible, run their practices efficiently, and reduce any risks to their businesses. We understand that some practices are using telehealth as their predominant form of patient interaction already and others are still warming up to the idea. Valant's telehealth pricing makes it an affordable option for any practice. You have the choice to pay only for the telehealth minutes you use or pay a capped (and very reasonable!) monthly rate – whichever makes the most sense for your practice. We also give you the flexibility to change your mind as your usage needs evolve.
Want to see Valant's telehealth solution?
We would love to show you how Valant's integrated telehealth solution would look in your practice.