Patient portals are an empowering tool for your behavioral health clients, as well as for your office staff and clinicians. However, despite all the benefits, it can be difficult to get patients to use the portal – or even activate their account in the first place. Driving patient portal adoption can be a challenge, but practices who are good at it use a similar strategy.
Watch this video that demonstrates how successful practices drive patient portal adoption.
What is a Patient Portal?
A patient portal is a web-based tool that allows practices to connect and communicate with their clients online. Using a patient portal designed specifically for mental health, clients can typically do the following:
Confirm upcoming appointments and request future appointments
Update their contact and billing information
Participate in telehealth visits
Complete intake paperwork, consent forms and other documents that require a signature
Access their medical history, including prescription and diagnosis information
Complete clinical measures or questionnaires that were assigned by their provider
View and pay bills online
Patient portals are either offered as a standalone system or as an integrated service, connected to the practice's EHR. Valant's Patient Portal is completely integrated into its behavioral health software, enabling its customers to realize the full benefits that come with using a portal for interacting with their behavioral health clients.
Benefits of Driving Patient Portal Adoption
Behavioral health practices that have high client adoption rates of their patient portal report significant increases in office staff and clinician efficiency, medical record accuracy, and client satisfaction. Let's take a closer look at the benefits you can expect if you are successful at driving patient portal adoption for your practice.
Increased Administrative Efficiency
Spending less time on administrative tasks is the most tangible benefit practices experience when using a patient portal. Behavioral health practices that have high patient portal adoption rates claim they are able to free up administrative time by up to 40-50%. If a portal can automate the completion and scoring of outcome measures, practices can see dramatic improvements to clinical efficiency, as well. While that might seem like an overstated claim, when you consider the amount of administrative work that could be eliminated by having a patient portal, it doesn't feel like much of a stretch.
How many phone calls per week does your practice get from clients who would like to get a copy of their billing statement, reschedule an upcoming appointment, or let you know about a change to their insurance? How much time does your staff spend to confirm upcoming appointments, ensure paperwork is completed before the appointment, send billing statements, and collect payments?
In many cases, when practices give their clients access to a patient portal, their call volumes decrease so significantly that the time can be reallocated to other areas of the practice (or free up their time to spend outside the practice!).
Integrated Clinical Measures Data
When using an EHR with integrated behavioral health outcome measures, a patient portal allows your team to send their clients both one-time and scheduled measures directly through the portal. The client's scores are then automatically recorded, added to their patient record with an auto-generated summary, and can now be graphed over time. Not only does this offer your client the convenience of completing the questionnaires when and where they please, but it also saves your providers valuable time, eliminates room for scribing errors, and gives them the ability to see trends and ensure they are providing the best clinical care to drive improved outcomes.
Secure Access to Telehealth Sessions, Paperwork, and Medical History
Patient portals offer practices and their clients a secure means for facilitating HIPAA-compliant telehealth sessions, completing sensitive client paperwork, signing consent forms, and accessing their health history.
While standalone solutions do exist for telehealth and acquiring electronic signatures, the integration of these functions into an EHR Patient Portal helps practices streamline their workflows and increases the likelihood of portal adoption by their clients.
Improved Medical Record Accuracy
Every time your office staff takes a phone call, there is room for error. Sometimes it is misunderstanding the client's insurance or appointment information. In other cases, it is a misinterpretation of the patient's medical needs. By having transactional information and communication flow through the portal, you reduce your risk for errors.
Errors can also occur when manually transcribing client assessments into their notes. This risk is eliminated when the data is entered directly by the client via the patient portal and automatically integrated into the client's chart.
Client Experience
Patient portals have grown in popularity with the consumerism of healthcare. Things that were differentiators for practices in the past – the ability to schedule appointments, pay bills, and communicate with their provider online – are now expected. Your clients insist on having the ability to access their health information online and they demand that it is a positive, user-friendly experience.
Practices that do not offer their clients quick and easy access to these services risk being perceived as antiquated and in this age of healthcare consumerism, clients will often choose convenience over loyalty.
How to Improve Patient Portal Adoption for Your Practice
If you acknowledge the value of offering your clients a patient portal, congratulations! You are well on your way to recognizing the efficiency and client satisfaction benefits we outlined above.
However, in order to fully recognize these benefits, you must ensure a high level of patient portal adoption. In talking with hundreds of practices, we have learned that increasing patient portal adoption is dependent on one thing, primarily.
In this video, we give you a look at Valant's Patient Portal and share the one strategy every practice must employ to drive the highest level of patient portal adoption. Watch now.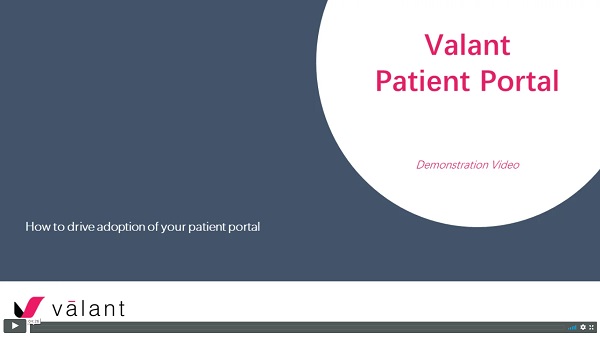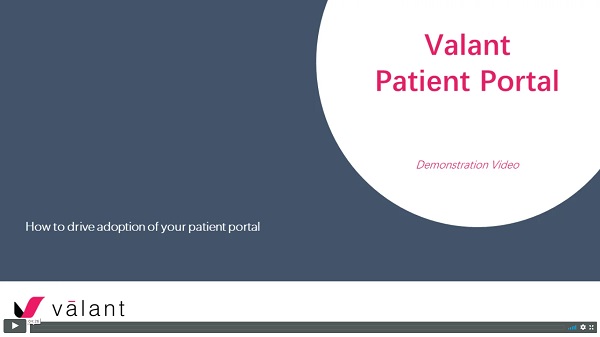 Get a Live Demo of Valant's Patient Portal
Valant's Behavioral Health EHR and Practice Management Software offers a fully integrated patient portal that will help your practice become more efficient and create a better user experience for your clients. Let us know if you would like to see a live demo!