In 2015, President Obama signed the Medicare Access and CHIP Reauthorization Act (MACRA) into law. The legislative support for the bill's passing was overwhelmingly bipartisan, indicating its significance in the effort to reform health care in the United States. Changes are coming that will affect the dynamics of Medicare reporting and reimbursement in behavioral health. Eligible providers will need to do their due diligence very soon in determining what requirements affect them and how to become compliant, starting with a canvassing of the basics.
What are MACRA and MIPS?
MACRA is a federal program that redesigns several Medicare-related reporting and reimbursement structures. Most notably, it ends the current reimbursement schedules under the Sustainable Growth Rate (SGR) program and lays the framework for a new performance-based system to replace it—the idea being that reimbursement should be based on quality, value, and accountability instead of volume, as seen in the pay-for-service model of SGR.
Under MACRA, several existing programs, such as PQRS, Meaningful Use, and VBPM will be streamlined into one Merit-Based Incentive Payment System (MIPS). Medicare reimbursements will be adjusted based on performance in four key categories: quality, meaningful use, clinical improvement, and resources used.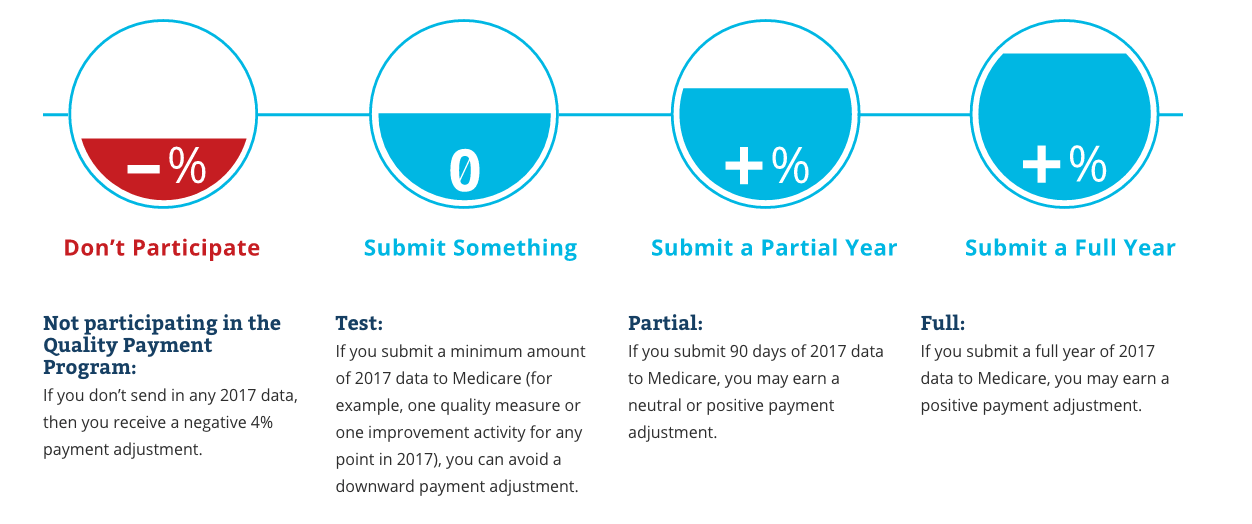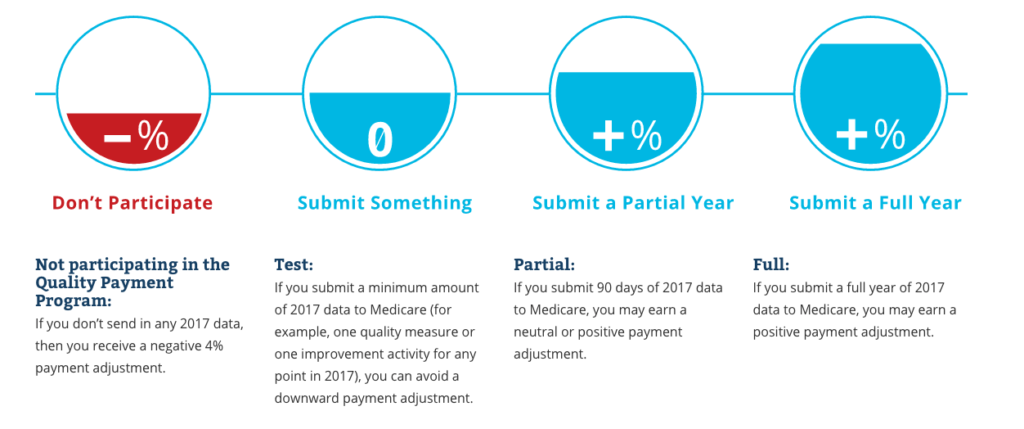 More details on how performance categories are weighted can be found here.
Who is an eligible provider?
The 2017 reporting year will include the following professionals:
Physicians (including psychiatrists)
Nurse practitioners
Physician assistants
Clinical nurse specialists
In contrast, the following professionals will not be considered eligible in the 2017 reporting year:
Providers who fall beneath the CMS low-volume threshold
Qualifying advanced APM clinicians
First-year Medicare providers
Clinical psychologists and licensed clinical social workers
Hospitals and facilities
Clinicians and groups who are not paid under the Physician Fee Schedule
What is the immediate timeline?
Eligible providers can begin collecting performance data as early as January 1, 2017, or at any time between then and October 2, 2017. The deadline for performance data submission is March 31, 2018, with the first Medicare reimbursements based on performance data scheduled for January 1, 2019. Payments will be adjusted up, down, or not at all depending on the qualifying performance track.
More on performance tracking here.
CMS has stated that 2017 will be a "learning year". Details for 2020 payments and beyond will be released at a future date.
Quality measures are becoming the new standard for healthcare reimbursement, and CMS's push toward value-based care is a strong indication of how future systems and legislation will develop. Regardless of the circumstances that practices find themselves in after the rollout of MACRA, behavioral healthcare providers that proactively transition toward value-based care will be better prepared if (and when) similar programs eventually pertain to them as well.
Making the transition to value-based care is simpler with a robust EHR solution. Valant can help! Click the button below to find out how.
[DEMOCTA cta="Learn More"]