October 2015 may not seem like it's right around the corner, but with it comes the launch of ICD-10-CM. To get there you'll need the DSM-5 firmly in place. You can save your organization time and money during the transition if you start with a DSM-5 implementation plan. Luckily, we've got one for you to help ease the pain. Below you will find a list of best practices, Valant's DSM-5 specific features, as well as a series of product shots that illustrate how Valant's EHR supports you every step of the way.
DSM-5 management best practices
There are many ducks to get in a row as you guide your behavioral health organization through this clinical and regulatory transition. We've compiled the list of best management practices below to help guide you through the transition to DSM-5:
During your preparation, make sure to get internal buy-in from all arms of your organization. In some cases, managers and directors will take the lead, or your direct clinical and administrative staff may shoulder the task–everyone has a part to play towards your success.
Implementing DSM-5 will be a change for your organization, but outside help is available as well. Don't be afraid to reach out to consultants for help in this transition, but before hiring costly trainers and setting aside precious clinical hours, consider planning with your EHR vendor to leverage their technology. You could save a lot of time and money.
Take advantages of online resources. The American Psychological Association continuing education office is sponsoring CE webinars on the DSM-IV-TR to DSM-5 transitions. Search for the specific diagnoses you're interested in, odds are there will be a webinar about it.
Invest in a fully integrated EHR. One of the biggest administrative nightmares is updating all the records. From patient charts, to billing charges- transitioning may require double, even triple entry. With an integrated EHR, you only enter the change once, which will save time and reduce errors and discrepancies.
Start to Use Dual Coding. While insurers are only accepting ICD-9-CM codes today, that shouldn't stop you from gaining familiarity with ICD-10-CM codes by beginning to incorporate them into your work. Using a process where you see both the familiar ICD-9-CM code and learn the appropriate ICD-10-CM code will help you gain an early edge.
DSM-5 specific Feature Set from Valant's EHR
"Valant is fully optimized for ICD-10-CM, at no extra cost to you. You can have complete control of the transition, reduce your costs, and eliminate training by leveraging our ICD-10-CM features.
Our ICD-10 features enable clinicians to learn the new diagnosis definitions effortlessly. They include:
ICD-10 learning tool located within every patient chart
Smart mapping of DSM-IV-TR and ICD-9-CM to DSM-5 and ICD-10-CM
ICD-10 diagnosis search based on description or code
Integration of diagnosis codes throughout EHR and practice management platform
[DEMOCTA]
Live screenshots of ICD-10 in Valant's EHR
Our EHR can help you through the transition by highlighting where to update from older codes. (Click to expand image)

Search capability provides results for DSM-5, ICD-9-CM and ICD-10-CM. (Click to expand image)

Detailed mapping of diagnoses between DSM-IV-TR and DSM-5, crosswalked between ICD-9-CM and ICD-10-CM. (Click to expand image)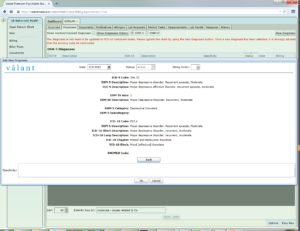 DSM-5 ready with non-axial documentation of diagnosis. (Click to expand image)

Click the button below to speak with one of our representatives and receive a free personalized demonstration of our integrated DSM-5 tools.
[DEMOCTA size="lg"]